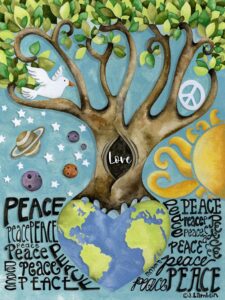 Creation Care at St. James Episcopal Church
The Creation Care Committee offers the following reading list with a few suggestions that might cheer or challenge you: 
Berry, Wendell. Jayber Crow: A Novel. Washington D.C.: Counterpoint, 2000
L'Engle, Madeleine. Penguins and Golden Calves: Icons and Idols in Antarctica and Other Unexpected  Places. Colorado Springs CO: Shaw Books, 2003.  

Macdonald, Helen

. H is for Hawk. London: Jonathan Cape, 2014.
Merton, Thomas. When the Trees say Nothing: Writings on Nature. Edited by Kathleen Deignan. Notre Dame IN: Sorin Books, 2003.
Muir, John. Meditations of John Muir: Nature's Temple. Edited by Chris Highland. Berkeley CA:  Wilderness Press, 2001.
Note: because we've started here with some well-loved classics that may have fallen off your list, this collection tends toward the inspirational rather than the instructive or organizational. Let us know what you're reading and what you love—our To Be Read piles can always use another book!
The Creation Care Task Force of the Episcopal Diocese of Kansas has a Facebook page! Click the link below to see what people are sharing.
Creation Care has been exploring advocacy at the Kansas Legislature. Click here for some advocacy actions and recommendations, as well as an overview of the 2 issues Creation Care is focusing on during this session.
Update on two Kansas bills we have been following:
SB 493: Prohibiting cities and counties from regulating plastic and other containers designed for the consumption, transportation or protection of merchandise, food or beverages.
Passed Second Chamber, On Final Action – It passed as amended; Yea: 74 Nay: 48
Vetoed by Gov. Kelly and House sustained the veto.
https://kansas.sierraclub.org/sierra-club-steps-up-to-save-plastics-bill-veto/
HB 2320: Enacting the commercial property assessed clean energy (C-PACE) act, providing financing for certain energy, water, air, health and renewable energy efficiency improvements through assessment contracts between C-PACE lenders and property owners and establishing certain rights, duties and responsibilities for mortgage lenders regarding C-PACE assessments. Referred to Committee on Financial Institutions and Rural Development. Creation Care supports this bill.
The Nature Conservancy uses the best available science and decades of field experience to help Kansas lawmakers make informed decisions about climate policy. Here is the information about their position on KS House Bill 2320: https://www.nature.org/en-us/about-us/where-we-work/united-states/kansas/stories-in-kansas/climate-policy/
For the Episcopal Church position on Creation Care issues, Social Justice, and other areas of concern,
click here: https://www.episcopalchurch.org/ministries/creation-care/
A few tips to consider when taking care of God's Creation:
Reduce your consumption, reuse, and up-cycle things you already have, recycle items that have the recycle ♻ symbol that has a 1-5 in it (numbers 1 and 2 indicate plastics that are frequently recycled.)
Volunteer to help clean up natural areas, parks, and trails.
Educate yourself; share knowledge and insights you gain.
Reduce your water usage.
Choose sustainable seafood.
Buy fewer plastic items and use reusable shopping bags.
Use energy efficient light bulbs (such as LED bulbs).
Plant trees and native plants.
Look for and use non-toxic cleaners.
Walk and bike when you can instead of driving.