Whoever you are and wherever you find yourself on your journey of faith, you are welcome here.
Worship Services at St. James Episcopal Church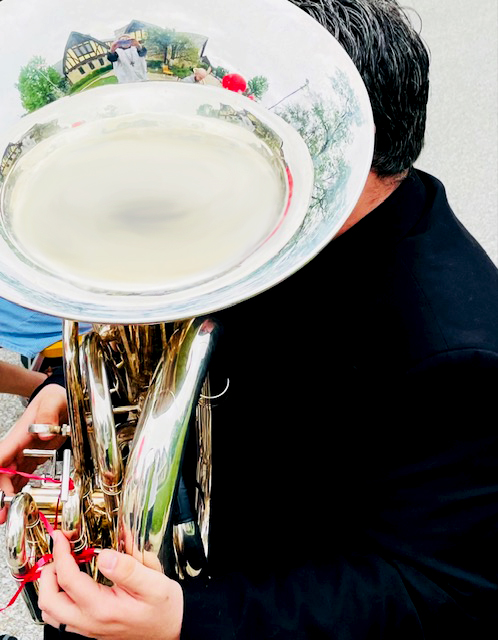 Our director of music, Marlene Hallstrom, snapped this photo of St. James reflected in a tuba
during our Pentecost Sunday service in 2021.
Worship
Join Us for Worship Services!
Worship Schedule
5:30 p.m. Saturdays
8:30 a.m. and 10:45 a.m. Sundays 
We invite you to come worship with us.
St. James Episcopal Church in Wichita, Kansas, offers beautiful worship services for the community.
Service times can be found below as well as videos of our most recent services.
Our love of the Lord brings us together
to not only worship, but to meet friends old and new. We welcome you to join us.
If you are in need of prayer, please call 316-683-5686 or email office@stjameswichita.org,
and we will be happy to pray for you.
You are invited to worship with us in person
at 5:30 p.m. Saturdays and 8:30 a.m. and 10:45 a.m. Sundays.
Please see our COVID-19 precautions here. 
You also may worship with us online on our YouTube channel.
Our 10:45 a.m. Sunday services are live-streamed on YouTube. 
In addition, you may tune in to services from our parking lot
by dialing your radio to 89.5 FM.