Whoever you are and wherever you find yourself on your journey of faith, you are welcome here.
Music at St. James Episcopal Church
St. James wichita
Music at St. James Episcopal Church
Music adds a touch of beauty to our worship services here at St. James Wichita. Our music program includes Choristers, Choir, Handbell Choir, and other instrumental and vocal participants. If you're interested in sharing your musical talents with the church, please read through the options below and reach out for more information!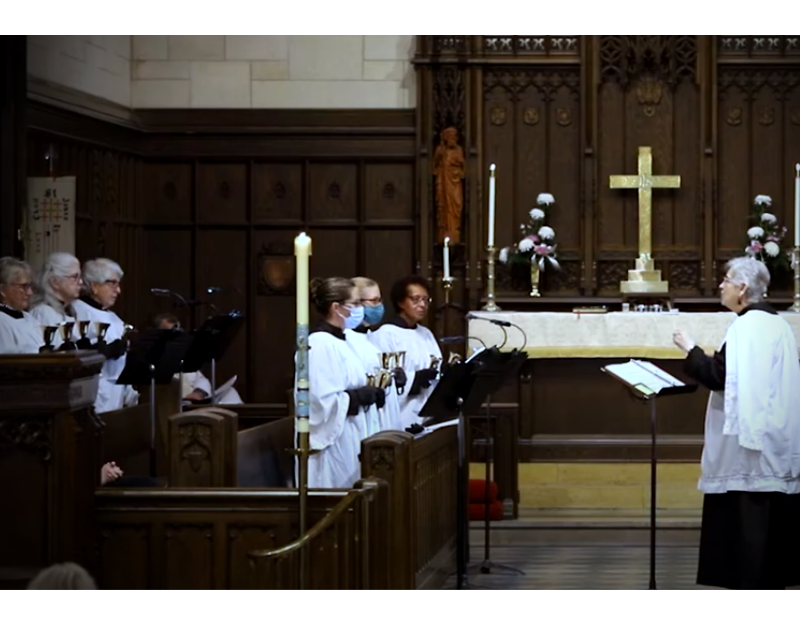 Choir
The St. James Choir is the backbone of the music program at St. James Episcopal Church, providing musical leadership at the 10:45 a.m. service on most Sundays from September through May. The choir welcomes adults as well as high school and college-age singers. A wide variety of music, including hymns, liturgical music, Psalmody, and sacred choral music from many historical eras is included in its repertoire.
The choir rehearses on Wednesday evenings from 7 p.m. to 8:30 p.m. from September through May in the music room at St. James. New members are always welcome!
Choristers
The Choristers are young singers in grades second through eighth. The curriculum follows the Royal School of Church Music model, which includes training in proper use of the voice, music theory and sight singing as well as hymns, liturgy, and sacred music. The Choristers sing in worship approximately once each month during the school year as well as for some festivals.
Rehearsals are on Wednesday evenings from 6-7 pm from September through May, in the music room. New members are welcome!
Handbells
The Handbell Choir provides music for worship several times throughout the church year, using three octaves of Schulmerich handbells and choir chimes. Both youth and adults are welcome to participate in this group, and new members are welcome. Training will be provided as needed.
The Handbell Choir is currently on hiatus, but will be returning soon. 
Other Resources
Instrumental and vocal soloists and ensembles participate in worship in a variety of ways throughout the year. Musicians of all ages are encouraged to share their talents at St. James.
For more information about any of these opportunities, please contact the parish office at office@stjameswichita.org